This weekend brought me my second Mothers Day, I can't believe how fast these are flying by!
After rolling in at 2am from the Networking Mummies Awards, where I was representing the wonderful Cuddledry who were finalists for the Product of the Year Award, I was feeling a little delicate. I was the designated driver too so I can't even blame the alcohol!
I was awoken from my slumber by loving chokeslam cuddle from my little man. He presented me with a card and a pretty little bag. Daddy had done a good job this year!
My first present was one of my favourites, some yummy Jelly Beans. I do enjoy chocolate but sweeties are my one weakness...Jensen Ackles a close contender!
Then I opened my gift bag to discover this beautiful
Joma Jewellery
bracelet!
A Guardian Angel to stay by my side whenever Ted isn't, such a sweet thought from Daddy! I opened my card to find Ted had signed his name...well not quite but at least he managed to put pen to paper!
After a very lazy morning trying to regain some sort of normality after the night before and still recovering from Friday's migraine (the second one in a week) I decided to take some control and arrange our afternoon!
We popped to the new Poundland store in Northampton which I had been meaning to check out for a while. We then had a walk around the retail park making sure Ted got his visit to Pets at Home to see the rabbits and fish and ended our retail therapy with a delicious Costa coffee and cakes!
On the way home we stopped off at the park to enjoy the sunshine, Ted walked the whole way around the park only stopping to pick some daisies or throw himself on the floor in protest because he couldn't run into the stinging nettles!
We then headed home to cook a roast dinner and do some crafting for Nana for her Mothers Day gifts.
So that was my Mothers Day but I didn't forget my own special lady, My Mum!
This year my Mum had her beautiful Poppy Bracelet, some yummy chocolates and this lovely bouquet from the Tesco flowers range. She was particularly surprised that I arranged to have them delivered to her front door and they are so bright and colourful.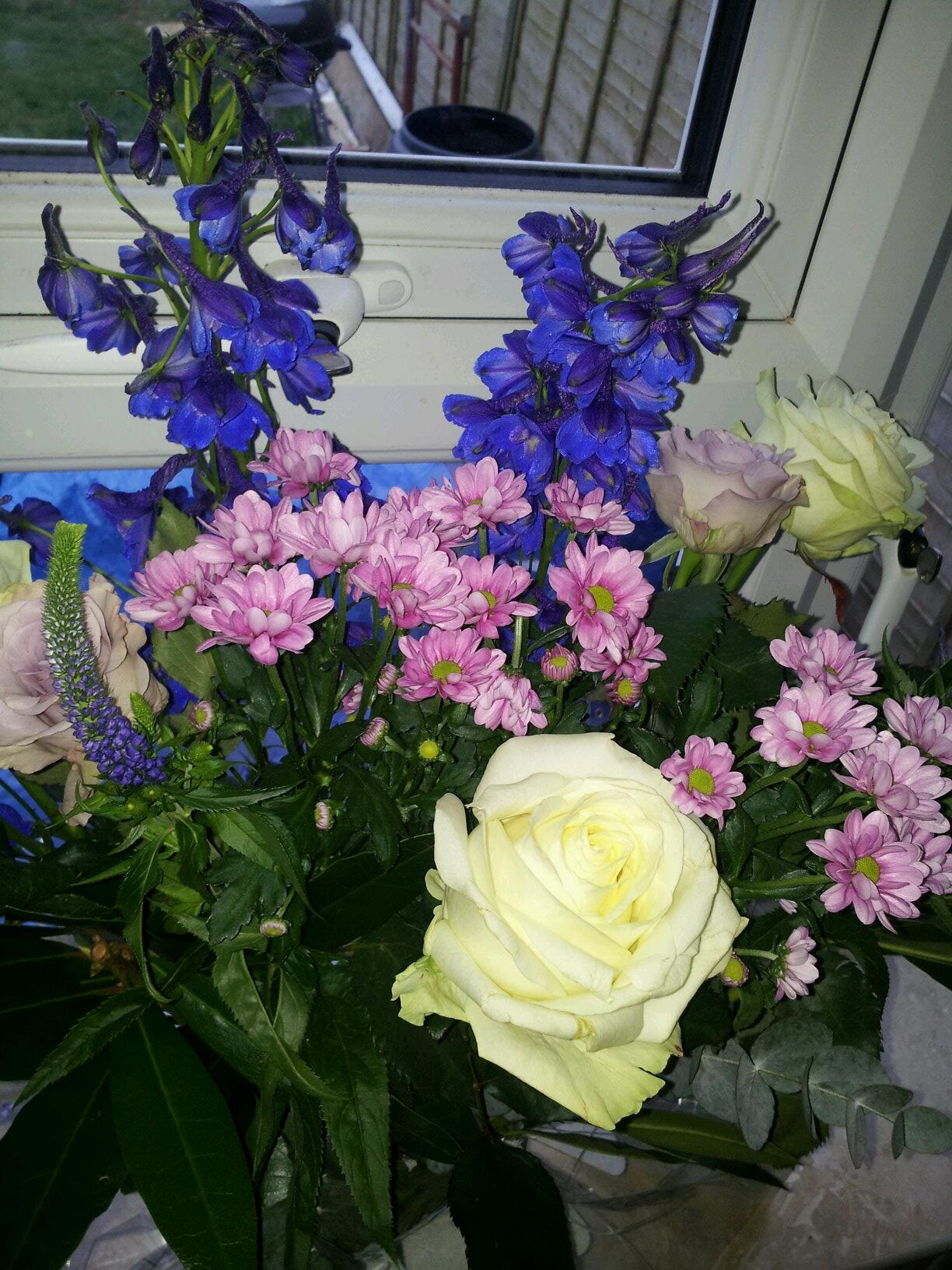 Ted and I made her a special card and a picture too which has taken pride of place on her fridge alongside all of Teds other pictures!
I hope all the Mums and Mummies to be out there had a fantastic day and sending love to those who are trying to conceive at the moment and extra special thoughts to those whose Mums are so sadly no longer with them.
Lots of Love and Cuddles all round!